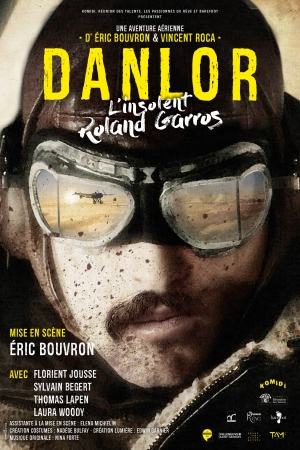 Presentation
"Being first is the only thing that counts. In tennis, being second is like being tenth" John McEnroe
It is the early 1900's. Automobiles and aviation are just starting. Every week, new records of altitude, speed and distance are being broken. 
Destined to follow in his lawyer father's footsteps, Danlor, passionate about these fascinating new machines, prefers to risk his life to meet the challenge. At first, it is an adventure among friends: driving faster, flying higher, going further. Then his rage to surpass limits takes hold of him - he must be the best. And he succeeds, becoming the darling of Paris. His dream came true: his name is down in history among the great men and women who defied the impossible. 
Danlor, young upstart and charmer, is afraid of nothing.
To what limit does he take his machine? 
What line does he cross? 
Does he realise in time what he risks sacrificing?
Insolence et a blind obession fan the propellers of the machine that thrusts us into a fantastical adventure. 
Intention
An adventure show that takes the spectator on a journey into the sky, following with humour the fantastical and daring actions of our hero. With a seris of short scenes, the rhythm is dynamic, visual and playful.
Cast / Distribution
Comédiens: Florient Jousse, Sylvain Begert, Thomas Lapen and Laura Woody; Musique originale: Nina Forte; Costumes: Nadège Bulfay; Lumières: Edwin Garnier; Assistance à la mise en scène: Elena Michielin.