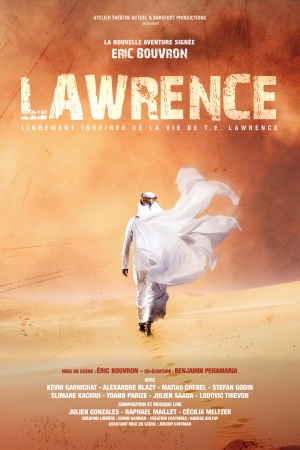 Presentation
He was a hero
For some, he was a prophet!
How far does loyalty go when having to hide a lie?
Eric Bouvron brings T. E Lawrence's powerful story to the stage. A young british archeologist who becomes an officer in the Middle eastern desert during world war one. This show touched upon various themes- friendship, loyalty, and betrayal- in a fascinating geopolitical context that still echoes in today's world.
A true story in history, both tragic and comedic. Ninety different characters (including camels!) are brought to life by eight actors, three musicians and singers. They play, dance, fight, and create this oriental universe with a minimalist set, staying true to Eric's style, with a touch of cinematic effect.
Cast / Distribution
Kevin Garnichat, Alexandre Blazy, Matias Chebel, Stefan Godin, Slimane Kacioui, Yoann Parize, Julien Saada, Ludovic Thievon, Julien Gonzales, Raphaël Maillet, Cécilia Meltzer
Medias
Bande-annonce - Lawrence d'Arabie from Atelier Théâtre Actuel on Vimeo.