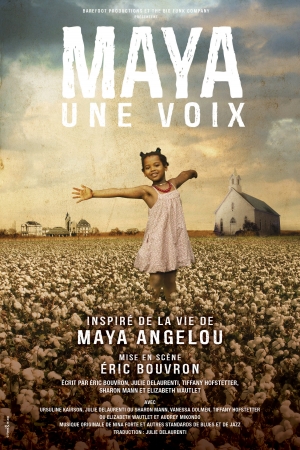 5 Stars! *****

Maya, une fabuleuse histoire américaine! Un bijou sur le début de la vie de cette Américaine admirée dans son pays et méconnue en France. Un coup de cœur.
http://www.leparisien.fr/culture-loisirs/sortir-region-parisienne/spectacle-a-pa...
On aime beaucoup! TT

Bonne surprise que cette représentation chantée et parlée par une troupe de cinq actrices. Histoire d'une résilience […] nous parvient sous la forme d'un spectacle tricoté à mains nues
Telerama
Le joli travail d'une troupe franco-américaine

La voix d'une petite fille américaine sur le chemin de la liberté
Éric Bouvron met en scène Maya, un spectacle sensible et gai, entre comédie musicale et gospel, en hommage à Maya Angelou, artiste et militante.
l'humanite
Presentation
Maya, a Voice tells the story of Marguerite Johnson, an African American girl who loses her voice following a traumatic event, her personal journey to find it again and how she becomes the iconic Maya Angelou...  It is a joyous story of reslience and hope, where words, music and poetry triumph over hardship.
Our story begins after Maya has just accepted President Bill Clinton's request to write a poem for his 1993 inauguration. Not only will she write one, she'll read it in front of the entire nation! As Maya contemplates the weight of this moment, she takes pause to consider the power of words and where she came from. This brings us back to her hometown and childhood.

Stamps Arkansas, 1935. The sound of gospel music filters through the cotton fields, revealing this small southern town and the people who live there. Maya, our heroine, is 7 years old. She introduces us to her brother, Bailey, and their grandmother, Momma, who is raising them. Momma owns and runs a small grocery store where the family lives in a warm and loving atmosphere. But the quiet is disturbed when, one day, Maya and Bailey's father shows up in a shiny new automobile, promising to take them to the circus and the exciting city of Saint-Louis to live with their mother. Momma protests but it's a losing battle…
Daddy leaves the kids in Saint Louis with their mother, Vivian; a beautiful, temperamental cabaret singer who lives with her boyfriend and manager, Mr. Freeman. While Vivian takes centerstage at the cabaret, Mr. Freeman looks after Maya and Bailey at home. A seemingly generous and caring man, Mr. Freeman quickly gains Maya's trust. But then he pushes his games too far and abuses her, an event which is effectively suggested in our staging. A trial ensues, and Maya is forced to testify against Mr. Freeman, who is found guilty. He ends up serving only a single day in prison and, after his release, is found murdered
Maya hears about Mr. Freeman's murder and believes that her one word during the trial, "yes", was so powerful that it caused Freeman's death. She immediately decides never to speak again and plunges herself into silence. After the events in Saint-Louis, Maya and Bailey are put on a train and returned to Momma, in Stamps. Five years go by and Maya is still mute, much to the community's dismay and shock. Until, one day, an unexpected meeting changes Maya's life forever and places her on the path of finding her voice again…
Intention
This story resonates universally: everyone has faced hardship, and having persisted, we emerge stronger with a deepened sense of self.
Maya is an ensemble creation of devised theatre featuring a cast of Paris based multucultural and multilingual performers. Inspired by Maya Angelou's early life.  Barefoot and The Big Funk Company have collaboratively composed a production that includes original text and music.
Written by: Eric Bouvron, Julie Delaurenti, Tiffany Hofstetter, Sharon Mann and Elizabeth Wautlet
Original Music: Nina Forte
Cast / Distribution
Ursuline Kairson, Julie Delaurenti or Sharon Mann, Vanessa Dolmen or Margeaux Lampley, Tiffany Hofstetter or Elizabeth Wautlet, Audrey Mikondo Musician (live): Christophe Charrier or Jo Zeugma
Medias